We're Renovating!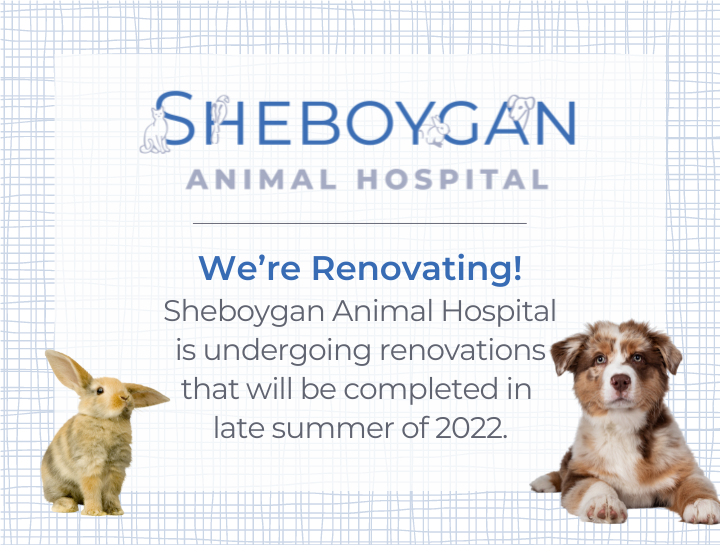 April 15, 2022
We are thrilled to announce that we began renovations here at Sheboygan Animal Hospital in August of 2021! Renovations will continue through late summer of 2022.

Sheboygan Animal Hospital has gone through many changes over the years but our core mission remains the same: to provide our patients with the highest quality of care possible. The newly renovated space will better support our ability to provide this high standard of care!

The hospital is wrapping up three phases of renovations! In phase one, we added a new x-ray room, surgical suite, a new kennel room, and an isolation room. Phase two included a new treatment area, an upgrade to our reception/lobby area, and two fully remodeled exam rooms. Phase three is in the works and we are remodeling two exam rooms together with building a brand new fifth exam room!

Hospital Manager, Laurel Nonhoff says "Having provided high-quality veterinary services to this community for over 30 years, we are excited about the remodel that is happening here at Sheboygan Animal Hospital. The remodel includes 5 new exam rooms, a large kennel area, a beautiful front lobby, and much more. The remodel to our hospital will allow us to continue to provide your pets with the high-quality care you have come to know and expect from Sheboygan Animal Hospital."
"LOOK AT OUR PROGRESS!!!! We are getting very excited as we are now in the third and final phase of our remodel. As you can see from the pictures, the progress our contractors have made is transforming. We are all excited to finally bring you all into our new hospital very soon. When the remodel has been completed, we will be announcing our Grand Re-opening date and time. It has been a long time between Covid and then the start of our remodel, but we promise you it will be worth the wait and once you come into our Hospital you will see the wonderful transformation that has taken place. We look forward to seeing you all very soon!!!!! Thank you again for your patience!!"
Thank you for your patience and understanding throughout this process. We can't wait to see you and your pets in our updated space!
Be sure to follow us on Facebook to see our renovation progress.
Call (920) 452-2882 with any questions or to schedule an appointment.